I apologise that these images are not greatly detailed. However, because I am working on a large number of vehicles, it is impractical to take an equally large number of detailed pictures. The main part is a company of Griffons in line with the Apocalypse expansion. That comprises 9 Griffons (in three batteries of three) and a command Chimera. The first battery has been painted yellow, had its transfers applied, and I got a bit carried away with mud. This was some months ago, so I blame Old-me. Yes.
Two vehicles from the second battery and the company commander's vehicle are at much the same stage.
The remaining four vehicles need some work before they can be coated yellow. I also need some more yellow spraypaint.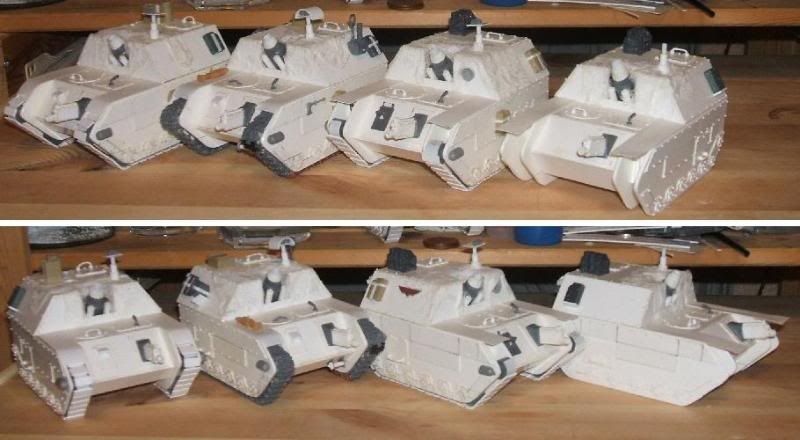 I've also put some tracks on what will eventually be a mostly scratch-built Leman Russ.
Penultimately, I was peering through boxes last night and turned up these old Chimera sides. So I popped some tracks on them and made track-guards from thin plasticard.
Lastly, Michael, my apologies for not providing those instructions tonight. I rather over-extended myself today. I do plan to get them done tomorrow. I assure you they'll receive better photographic accompaniments than these!