I'm sorry I've not posted in a few days. The weather's got worse again, and standing around in my bedroom trying to take pictures of models is a recipe to feeling cold. I am only now shaking off the desire to stay snug and warm in my chair. Despite the lack of pictures, I have not been idle. As I said, I decided to drill gas escape points for the Demolisher barrels I'd thickened.
Then I produced another seven barrels which will be placed on a different model of Demolisher turret with an angle of about 70 degrees off the horizontal.
I have had some Krieg models (Command Squad and Engineers) sat about for ages. I've been doing a little work on them today and yesterday.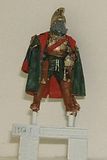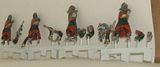 Before that I spent many hours doing dull assembly-line work for my scratch Basilisks, marking out, cutting out, sanding into shape, and gluing together enough sides for about ten vehicles.

I have also been working on a present for a friend. Money isn't what it was, so I've been doing up a few figures from Hero Quest for him. Fingers crossed he'll like them! I haven't yet mentioned it to him, and I'm sure he doesn't read this blog, so surprise shouldn't be lost. I shall get some pictures of them before I wrap before I wrap them for him.