I finished the predatory aliens -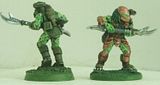 - the Inuit hunters -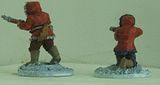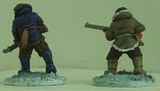 - and an American Adventurer, whom I have painted three times or so already. I never can quite fix on the right colours for the chap. But taking my thinking from a John Wayne/Dean Martin Western (
you know the one
), I'm quite happy with his colours this time.
Now onward and upward to the . . . RN? And the elephant, a few cavalrymen lacking some important component of their calling, and some alleged - but quite innocent - criminals.
Addendum: I have no explanation for the superior quality of the first image. Perhaps the camera got tired? Its position was the same, as was the lighting and the backdrop. I think I shall have to accept that I simply require more lighting.