I'd been looking forward to Saturday for a long time! Si, Tammy and Nathan arrived a little earlier than expected, and I drove us all down to Biddulph Grange County Park. It was originally a walk constructed for the local rich-types, but these days is open to the public. We had a little trouble, as I'd assumed everyone would be wearing hiking boots, rather than walking shoes, so I was the only person not teetering over the mud. I crashed and splashed through it as usual. We passed a smallish lake (the Fish Pool) which had maybe half a dozen ducks, and a central island, and the old boathouse, which contains no boats. Then we walked up a hill to the Cave, which is not a natural cave, and used to be a covered tunnel before the far end was shut up. Another family was just coming down the boggy slope, and the poor mother told us had only recently had a knee operation!
We went into the cave, and for once my carrying a torch proved useful. For some reason, Nathan and Si and I had all brought torches, but the dog of the family which had just left was as drawn to torchlight on stone as cats are to laser pointers! Si saw the dog, halfway down the slope, catch sight of our lights, and race back up again. Nathan and I had gone quite a way in when suddenly a small creature scurried eagerly about our legs, nearly tripping us! So lights off, and the disappointed doggy departed. We trundled back out of the cave, and carefully descended the boggy area, helping poor Tammy, whose legs weren't quite up to leaping from dry stone to dry stone like her husband. Then we set off in search of the "Round Rock". After a few minutes we discovered a large boulder, with steps carved into the side. Needless to say, after the boathouse that wasn't and the cave that wasn't, neither was this Round Rock round! Still, we climbed up the stairs and I took a snap of the others atop it.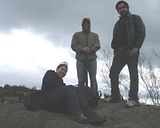 Then down we came by way of the Himalayan Walk. You've guessed it: no yetis were in evidence, just a runner and a couple with a dog. We came up against the edge of the park, and headed back, following the brook that leads to the visitor centre (closed at this soggy time of year, but with toilets open!). Back home by car for a moment, where Si checked out Nathan's suggestion about acquiring a better 'net connection. Si and Tammy are really being screwed by their provider at the minute. Anyway, we headed on down to the local 'Spoons (as they victual vegans) to meet Mawbs and Berni. We then had meals arrive at sporadic intervals - mine first, but half of it missing! - which rather irked Nathan. He's a bit of a stickler for competence on the part of staff. But finally everything arrive and we noshed down. Well, I'd been chomping away for a while by then to avoid cold curry. Afterwards, we nearly left, but instead ended up spending maybe two hours on the quiz machine! I don't think we can have lost more than a fiver between the six of us, so it didn't turn out too ill. Someone had the bright idea that we should buy a quiz machine, memorise all the answers, and then use that knowledge to win in pubs. This time next year, Rodney, we'll be millionaires!
Then we popped into the off-licence down the street, where everyone collected a few beers, and then back to mine. we chatted for a bit, discussed watching a film, but settled on a game of Cranium. Mawbs was wary at first, but after the first game he was most enthusiastic for a rematch. The game has won another convert! Both games were a little odd insofar as whenever we played a Club Cranium (in which one player from either team attempts to get his teammates to guess the answer) we had simultaneous exclamations of knowledge from both sides. Naturally, this reminded me of Fortean TV (a show from the '90s produced by the same company which made Eurotrash), and I brought down an old video for everyone to watch. I was a little wary that they might not enjoy it at first, but I don't think I've seen an audience laugh more heartily at people eating fish (an alleged asthma cure). An excellent day, and one I hope to repeat before too long! I'm very happy to have seen everyone.